Saint-Gobain gypsum false ceiling specification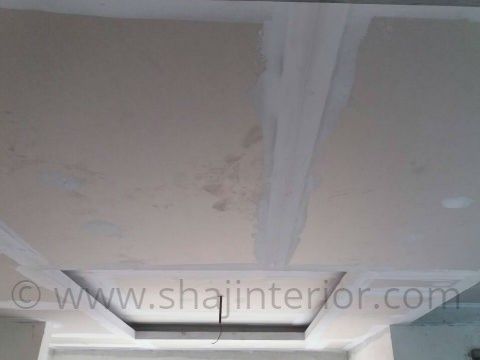 Saint-Gobain gypsum false ceiling specification
Saint-Gobain's metal frames are made from high quality steel with 120 GSM zinc coating and knurling process which makes the metal frames more load bearing capacity and longer resistance against rust, corrosion and breakages. Currently they are producing three varieties of metal frames in different qualities and different patterns. The Xpert metal frames are recommended for small space projects while Ultra and GypSerra are recommended for large space projects where require higher load bearing capacity.
Most of the people think that just using the Gyproc® plasterboards with local metal frames will make their ceiling durable and long lasting while some of others thinking Gyproc® plasterboards along with genuine metal frames will do the same. But the real factor is slightly different from their thoughts. The metal frames are pillars of a gypsum plasterboard false ceiling, but no one can refuse that just the pillars can hold up the whole roof without a proper core foundation.
A plasterboard false ceiling's core foundation is the metal accessories. Most of the local false ceiling contractors are using local metal accessories since the Gyproc® genuine metal accessories are 3 times higher pricing than local false ceiling metal accessories. You can just imagine that you built a home using the world class standards of pillars, walls and roof with compromised quality of core foundation. How this will be a good decision? Think yourself and take a wise decision before choosing your false ceiling!
In this post we provided some basic specifications about Saint-Gobain Gypframe® Xpert and Saint-Gobain Gyproc® Ultra metal frames along with technical details and recommended installation method to gain maximum lifespan for your false ceilings. Please always cross check your false ceiling vendor with the details provided here until they complete your false ceiling on your project to make sure the quality. We hope this this post will help you a lot to choose a right product for your false ceiling needs.
Gyproc Ultra Metal Frames
Ceiling Angle (25 x 10 x 0.5 x 3660 mm
Perimeter Channel (20 x 28 x 30 x 0.5 x 3660 mm)
Intermediate Channel (15 x 45 x 15 x 0.9 x 3660 mm)
Ceiling Section (80 x 26 x 51 x 0.5 x 3660 mm)
Gypframe Xpert Metal Frames
Ceiling Angle (25 x 10 x 0.4 x 3660 mm)
Perimeter Channel (17 x 23 x 30 x 0.4 x 3660 mm)
Intermediate Channel (13 x 45 x 13 x 0.7 x 3660 mm)
Ceiling Section (75 x 23 x 48 x 0.4 x 3660 mm)
Gyproc Metal Accessories
Rawl Plug (8 x 45 mm)
Soffit Cleat (27 x 37 x 25 x 1.6 mm)
Bolt Nut M6 bolt nut
Metal to Metal Screw (4.2 x 13 mm)
Connecting Clip (2.64 mm ⌀)
Drywall Screw (3.5 x 25 mm)
Gyproc Plasterboards
Gypsum Plain Board (1219 x 1829 x 12.5 mm)
Gypsum Moisture Resistant Board (1219 x 1829 x 12.5 mm)
Gypsum Fireline Board (1219 x 1829 x 12.5 mm)
Gyproc Joint Finishes
Jointing Compound (Easi-Fill®)
Fibre Tape (50 mm x 90 m)
Ceiling Installation Method
Ceiling Angle: Should be suspended at max 4' centres using Gyproc® Rawl Plug and Gyproc® Soffit Cleats with Gyproc® M6 Bolt Nut.
Perimeter Channel:Should be fixed to the walls with water level at max distance of 1.5'/screw using nylon sleeves.
Intermediate Channel: Should be connected to Ceiling Angle at max 4' distance using Gyproc® Metal to Metal Screws.
Ceiling Section: Should be connected underneath of Intermediate Channel in cross direction at max 1.5' distance using Gyproc® Connecting Clip.
Plasterboard: Should be fixed to the Ceiling Sections in staggered layout using Gyproc® corrosion resistance Drywall Screws.
Joint Finish: Gyproc recommends applying 3 to 4 coats of joint putty in wider than 450 mm on final coat. But we recommend to just apply fewer coats as much as possible in the same breadth of the tapered edge joint with fibre tape to retain the maximum plasterboard surfaces which will helps the painters to apply the full surface putty evenly without spoiling the true surfaces. And we highly recommend to apply 2 coats of Asianpaints trucare® interior wall putty with < 1mm layer thick in cross directional way for better surface preparation.